Ahead of his keynote speech for Sofidel's 3SAward in Lucca, Italy, Future spoke to global thought leader and consultant Peter Fisk about how profitability should go hand in hand with a positive impact for contemporary businesses
With 30 years of experience working with some of the biggest brands in the world, from Coca-Cola to Cartier, Peter Fisk is more than qualified to discuss the biggest issues facing corporations today. At the heart of his philosophy is the belief that businesses can and should generate a positive impact for everyone – shareholders, employees, and customers – and that understanding this is essential for their future in a financial climate ever more concerned with ESG (Environmental, Social and Governance) issues.
"We as citizens, but we as companies in particular, are living beyond our means," states Fisk. "We take more from the earth than we give back."
But he insists that it doesn't have to be this way. In recent decades sustainability rhetoric has centered around reduction, be that of carbon emissions, of consumption, or of waste, epitomized by the call to 'reach net-zero'. But Fisk believes companies should instead be concerned with creating a "net-positive impact."
His business ethos he summarizes in the term "handprints, not footprints," a phrase which helps visualize his exhortation for companies to think about how they can improve themselves by looking 'up and forward rather than down and behind', be that through regeneration of habitats or initiatives to improve local society.
"When you connect hands together, you start to amplify the impact," adds Fisk. "So, it's not so much what you do yourself as a company, it's what you enable a million people to do, and a billion people to do. It's the multiplication of the impact you can have if you create an environment where you enable people to do good themselves."
Fisk insists there is no good reason for companies not to prioritize ESG goals moving forward. "Innovations deliver better products, which engage more customers, engage better employees, and reward shareholders and ultimately society as well," Fisk says.
You can watch the video interview with Peter Fisk here:
The connectedness of an environment
Before joining the corporate world, Fisk worked as a nuclear physicist which he believes has helped define his business strategy. Physics, he says, "is about how the world works. It's all connected, it works as a system," he continues. "In terms of the Solar System, or the natural world, or what happens inside an atom, they work as systems and one thing affects another."
Aside from understanding the connectedness of an environment, Fisk also judges that his scientific background has encouraged him to think outside the box. "Physics is an experimental subject, and a lot of the time you spend in a physics lab, [you're] trying to prove something. And in order to do that you have to hypothesize, [but] to hypothesize, you have to have a creative leap of faith."
This education Fisk asserts has contributed to his desire to be thinking always of how things could work differently, a bold approach which has shaped his success in consultancy and made him a thought leader in business today. More than strategy, successful change is driven by people who are "willing to adapt and to innovate as they go over time," he says.
"There are probably no perfect strategies" he says. "You need an 80% [right] strategy which gives you a direction, and then you need to get out there and see what works."
"Being able to keep moving forwards and keep adapting that strategy over time is probably the biggest kind of factor, which is going to make successful companies," he states.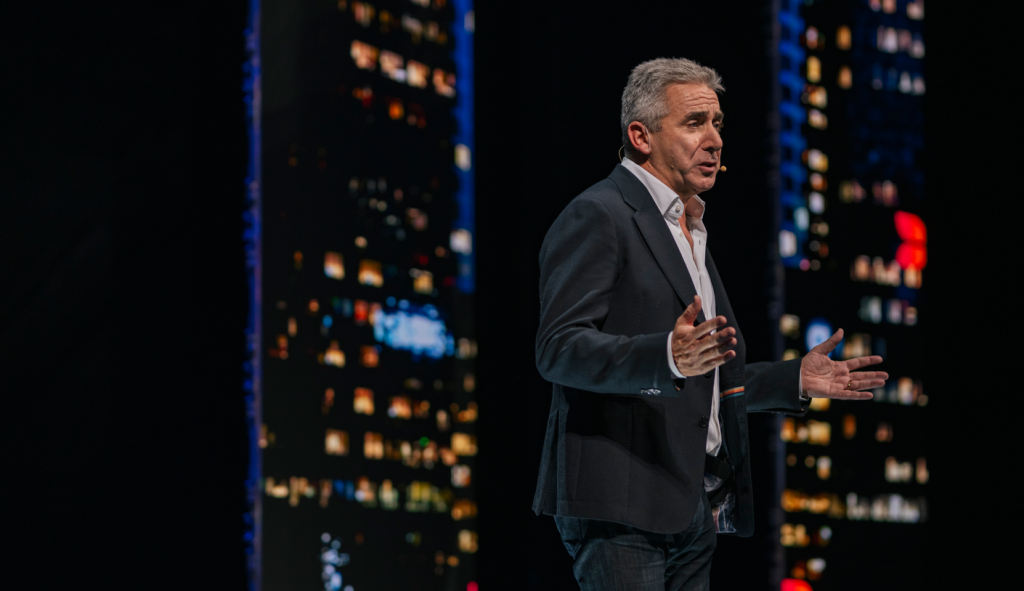 Balancing sustainability and profitability
Some might argue that it is impossible for a company to harmonize sustainability and profitability, but Fisk disagrees, arguing that "one of the great kind of misnomers of our time is that you either have to be good for the world, or be good financially."
He points to Tesla as an example of an organization worth hundreds of billions of dollars which has simultaneously put electric vehicles at the center of the green revolution. "Being able to constantly think about how [you can] actually create something better, which is sustainable, enables you then to be able to create something which is valued by customers, so they potentially pay more for it," he explains. "Ultimately, you start to create a productive business which people want to invest in."
Sofidel's 3SAward is all about recognizing companies which make those positive handprints throughout their supply chain. Fisk says, "The great thing about the awards is that it brings the entire ecosystem together. It's not just about the product. It's not just about Sofidel, the individual company. But it's about all of the partners who can make a successful product and service and business thrive in today's world."
He concludes: "One of the big things which we've seen in the last few years is that ecosystems win over individual companies. The 3SAward really celebrates the ecosystem working together with supplier companies to create a better world."
Further details:
For more information visit peterfisk.com.