We Don't Have Time is the world's largest review platform for climate solutions. Ingmar Rentzhog, founder and CEO, speaks to Future about "engaging in a climate dialogue" with influential companies, governments, organizations, startups, and NGOs around the world
Headquartered in Stockholm, Sweden, and with offices in Washington DC and Nairobi, We Don't Have Time it a hugely influential voice in the fight against climate change. With a monthly social media reach of over 50 million, among its 150+ partners are United Nations Development Programme – UNDP, Ericsson, Volvo, Spotify, Vodafone, Nordic Co-Operation, BT, and The Exponential Roadmap Initiative. Here, he addresses "restoring the greatest climate solution of them all – nature", and how his organization works as a kind of TripAdvisor for the climate.
Why did you establish We Don't Have Time? What are you hoping to achieve through the organization?
Ingmar Rentzhog: I was an entrepreneur in the finance industry, running my own successful company, when I had my first kid. Becoming a father got me thinking more about the world of tomorrow, the world my children was going to inherit, and so I started reading about the climate crisis. At first, I thought, 'It cannot be this bad'. If it was, everybody would talk about it, and our leaders would focus all their energy on trying to solve this crisis. But as I dug deeper into it, I realized that it actually was far worse than I thought it was, and that it still was not taken seriously. My real moment of clarity was when Donald Trump was elected as US president. That was when I realized that our leaders were not going to fix this for us. So, I sold my company and founded We Don't have Time with my dear friend and previous colleague, David Olsson.
Please describe the pioneering work of We Don't Have Time. How is your organization making a difference?
Ingmar Rentzhog: We Don't Have Time is the world's largest review platform for climate solutions and a social media network for everyone who wants to be a part of the solution. A kind of Tripadvisor for the climate, if you will. Instead of rating tourist destinations, our community sends climate love, climate warnings or climate ideas to companies, leaders and organizations, based on their climate action – or lack thereof. We also invite companies, governments, organizations, startups, and NGOs around the world to join as partners to engage in a climate dialogue on our platform. We regularly invite our partners and members to join our solution-oriented broadcasts and global digital summits that reach millions of viewers on social media. By highlighting and spreading climate solutions on a global scale, and make sure they reach the people in power, we help these solutions to be scaled up and implemented widely.
Tell me about the success of Nature in The Race to Zero! – The Exponential Climate Action Summit V – on Earth Day [April 22].
Ingmar Rentzhog: One of the great things of We Don't Have Time is that we collaborate with everyone who wants to be part of solving the climate crisis. We gather global companies, scientists, media, activists, organizations, startups and the youth. People are not used to seeing such a diverse mix of change-makers under the same roof, and I truly believe this has a big impact. There is so much we can learn from each other when we start cooperating across sectors and borders. With the Earth Day event we showed people that nature-based solutions is important not just for environmental organizations and local communities, but also for investment companies and global corporations, such as Ericsson, Google and Netflix.
How can nature-based solutions help us deliver a third of the greenhouse gas reductions needed by 2030 to meet the Paris Agreement? Why is the right way to progress?
Ingmar Rentzhog: It's all about quickly restoring the greatest climate solution of them all – nature. Forests, wetlands, healthy oceans and healthy land. Healthy natural environments draw down carbon, lower temperatures in overheated regions, increases human health, purifies air and water, brings back biodiversity and provide both humans and animals with food. It's a super win-win. And a super cheap solution at that. There are a number of innovative solutions that are scaling up and speeding up this restoration, but we also need to implement system changes that make it more profitable to let the forests remain, than to cut the trees down.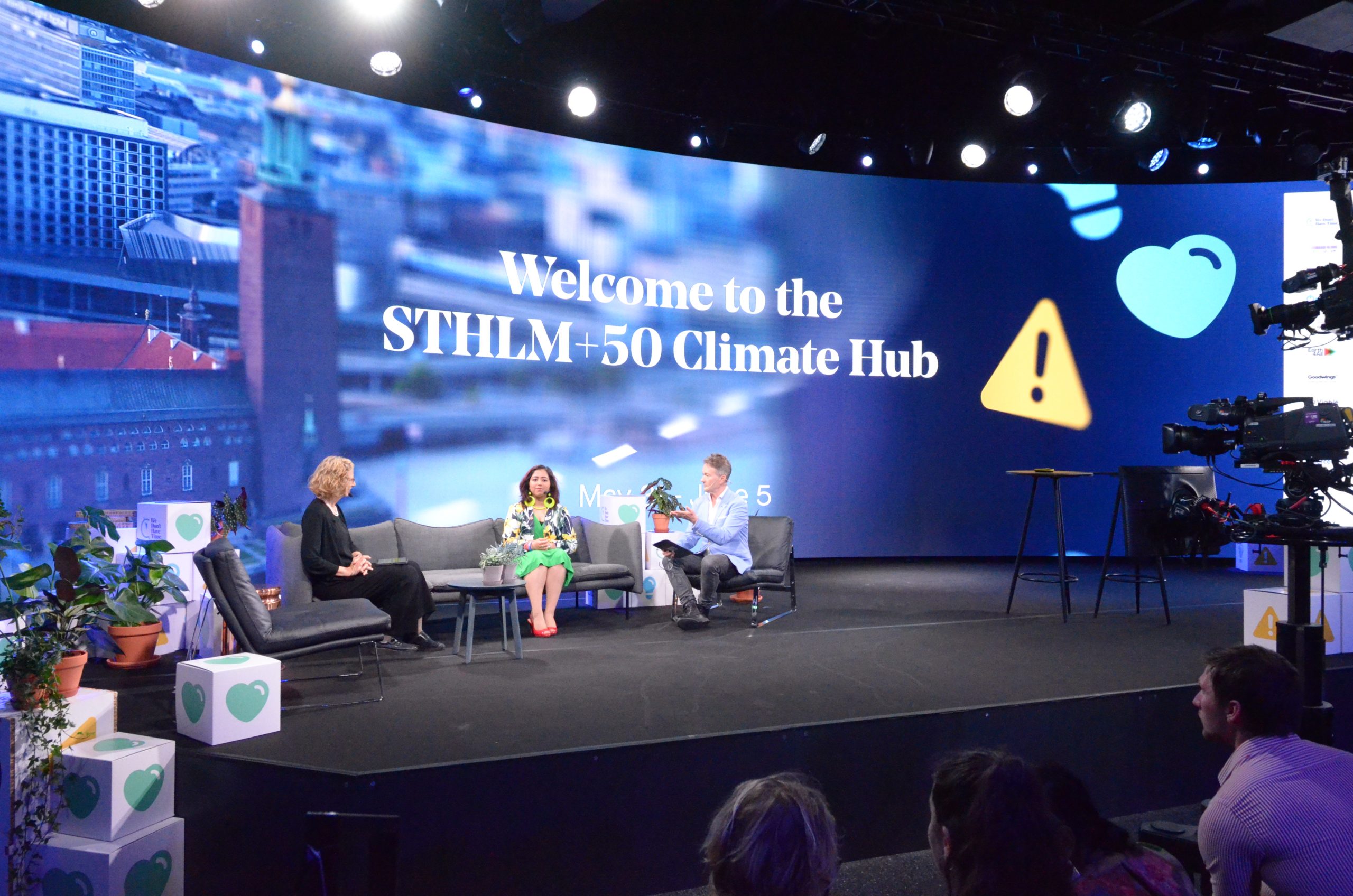 Just five weeks after the Earth Day broadcast, you organized an ever bigger event, the STHLM+50 Climate Hub. Tell us about it.
Ingmar Rentzhog: The STHLM+50 Climate Hub was organized, from May 31 to June 5, 2022, in association with the UN Meeting Stockholm+50, which was set up 50 years after the first global environmental conference, which was also held in Stockholm. This was by far our most challenging and ambitious task to date. We created a five-day event, with 50 hours of live broadcasting, 250 speakers on stage, and a bigger live audience than we've ever had before. We somehow managed to pull it off, and we reached more than 32 million people on social media. We have never before received such great feedback as we did after this event.
Are you hopeful and optimistic about the future? Do we actually have sufficient time to enforce a positive change?
Ingmar Rentzhog: I am 100% certain that we will meet the goals of the Paris Agreement, despite the fact that many of our elected leaders are lagging behind, and in many cases actively trying to pull us back, by increasing fossil fuel subsidies and cutting down on climate investments. Because at the same time millions of companies, leaders and organizations are setting ambitious climate targets and really starting to take serious climate action. The snowball is rolling, and it's growing bigger and bigger and faster and faster by each day. And the younger generations are behind this big time. There's no stopping it. So yes, we will reach our climate goals. The question is if we will reach them in time to keep us within the planetary boundaries. And that's where we come in. To accelerate the transition, to spread the new and more positive narratives, and to show that the sustainable future is also the better and more prosperous future.
Further details:
For more information, please visit wedonthavetime.org.