At the heart of September's UN High-Level Meetings was the summit, which provided a stage for world leaders to come together to reflect on their promise to achieve equality and sustainability, leaving no one behind
Global leaders gathered in New York City, USA, on 19-29 September 2023 at the High-Level Meetings (HLM) of the 78th United Nations General Assembly (UNGA) to explore a spectrum of world issues, from economic instability and poverty to pandemics, war, and climate change. The theme for this year's General Debate was "Rebuilding trust and reigniting global solidarity: Accelerating action on the 2030 Agenda and its Sustainable Development Goals towards peace, prosperity, progress and sustainability for all."
Opening the proceedings, Dennis Francis, president of the 78th UNGA, said: "The 2030 Agenda for Sustainable Development – adopted unanimously by all UN member states in 2015 – constitutes a global call to action to banish poverty from our societies, protect and preserve our planet, and to ensure prosperity for all.
"The 17 Sustainable Development Goals (SDGs) serve as a beacon of hope and a roadmap for common action to create a more equitable, more just and more sustainable world."
The centerpiece of the HLMs was the 2023 SDG Summit. Chaired by Dennis Francis, president of the General Assembly, it marked the midpoint to the deadline set for achieving the 2030 Agenda and SDGs. The event provided a platform for world leaders to come together to reflect on where the planet stands and to resolve to do more.
The defining principle of the 2030 Agenda is to leave no one behind – a promise shared by every country to secure the rights and well-being of all people. But, halfway to the deadline, that promise appears to be in peril.
Time to sound the alarm
UN secretary-general António Guterres said in his report, Progress towards the Sustainable Development Goals: towards a rescue plan for people and planet: "The SDGs are disappearing in the rear-view mirror, as is the hope and rights of current and future generations. A fundamental shift is needed – in commitment, solidarity, financing, and action – to put the world on a better path. And it is needed now.
"We can do better, and in moments of severe challenge, humanity has always come through. Now is another of those moments. The SDG Summit… must deliver a rescue plan for people and planet. It is time to sound the alarm."
Global leaders plan to review the state of the 17 SDGs and provide guidance on transformative action. The UN describes the mission as a "juggling act", where the three balls of economic growth, social inclusion and environmental protection must be kept in the air. A lot of development is unsustainable, and has led to climate change, pollution, conflict, poverty, inequality, social instability, and hunger. Often, short-term gains are overshadowed by long-term harms.
The summit focused on people. In 2022, more than 9% of the world population was facing chronic hunger, equivalent to about 735 million people – 122 million more than in 2019. According to an Oxfam report published in January, the richest 1% of people on the planet grabbed nearly two-thirds of all new wealth created since 2020, worth $42 trillion – almost twice as much money as the bottom 99% of the world's population.
Paula Narváez, president of the UN Economic and Social Council (ECOSOC), pointed out the importance of equal opportunities: "Realizing gender equality, and the empowerment of women and girls will make a crucial contribution to progress across all the goals and targets of the 2030 Agenda. Women and girls must enjoy equal access to quality education, economic resources, and political participation, as well as equal opportunities for employment, leadership, and decision-making at all levels."
It's all connected
The McKinsey Health Institute held three events at the HLM: Scaling Mental Health Innovation; The Case for Healthy Cities; and the Women's Health Initiative annual meeting. The McKinsey Global Institute's research in From poverty to empowerment considers growth, inclusion and sustainability as parts of a connected system. It reports that "as of 2020, some 730 million people have been living in extreme poverty, while 4.7 billion are below the empowerment line".
McKinsey believes the pursuit of economic empowerment must be viewed in conjunction with global net-zero commitments. It says: "The combined empowerment and net-zero investment gaps amount to 8% of global Gross Domestic Product (GDP) annually over the decade. Lifting everyone above the empowerment threshold implies that the people currently below it would need 40% more spending power on average by 2030. To get on a net-zero trajectory, the world would need to muster an additional $41 trillion in low-emissions investment.
"Empowering large populations while getting on a net-zero trajectory would take a global push for growth, innovation, and collaboration. Growth boosts economic empowerment and creates the financing capacity for net zero. The upside is compelling: some 2.1 billion people could move above the empowerment line and 600 million people out of poverty."
We can't look away
In February, Guterres called for an urgent infusion of SDG financing from the world's 20 largest economies. A package of $500 billion a year would enable all countries to invest in renewable energy, education, job creation, healthcare, sustainable food systems, infrastructure, and digital transformation, he said.
Francis said: "It is estimated that approximately 8% of the global population – or 680 million people – will still be facing hunger in 2030. Can we accept these numbers or, because they make us uncomfortable, should we pretend they do not exist and carry on with business as usual? Surely, we cannot.
"With concerted, ambitious action, it is still possible that by 2030, we could lift 124 million additional people out of poverty and ensure that some 113 million fewer people are malnourished."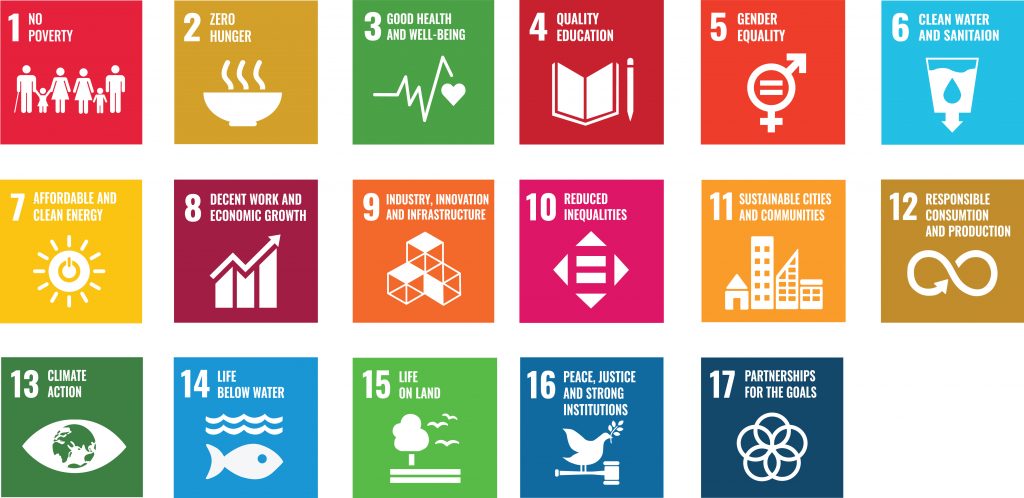 Sustainable goals
The 17 Sustainable Development Goals, which the UN wants to achieve by 2030, are:
No poverty: more than 700 million people live in extreme poverty.
Zero hunger: a third of the world's food is wasted and 821 million people are undernourished.
Good health and well-being: vaccinations resulted in an 80% drop in measles deaths in 2000-17.
Quality education: 617 million children and adolescents lack minimum proficiency in reading and maths.
Gender equality: one in three women has experienced physical and/or sexual violence.
Clean water and sanitation: water scarcity affects more than 40% of the world's population.
Affordable and clean energy: three billion people still lack clean cooking fuels and technologies.
Decent work and economic growth: one-fifth of young people are not in education, employment, or training.
Industry, innovation, and infrastructure: roads, water, sanitation, and electricity are scarce in many developing countries.
Reduced equalities: the poorest 40% of the population earn less than 25% of the global income
Sustainable cities and communities: nine out of ten urban residents breathe polluted air.
Responsible consumption and production: by 2050, the equivalent of almost three planets could be required to sustain current lifestyles.
Climate action: global emissions of carbon dioxide have increased by almost 50% since 1990.
Life below water: over three billion people depend on marine and coastal biodiversity for their livelihood.
Plant a tree and help protect the environment: forests are home to more than 80% of all terrestrial species of animals, plants, and insects.
Peace, justice, and strong institutions: in 2018, the number of people fleeing war, persecution and conflict exceeded 70 million.
Partnerships: achieving the SDGs could open up $12 trillion of market opportunities and create 380 million new jobs by 2030.
---