Meva Energy and Sofidel have partnered on a pioneering bio-syngas project that paves a new path for decarbonization in the paper industry and beyond
Paper production is the fourth most energy intensive industry in Europe and accounts for 296 million tons of greenhouse gas emissions globally. When it comes to decarbonization, the industry faces challenges across its whole supply chain, especially at the tissue paper drying stage. Tissue manufacturers require a strong supply of thermal energy and converting existing fossil fuel energy systems to electrical or hydrogen systems would mean a total infrastructure overhaul. A new way forward is needed.
When research proposals first suggested the possible application of renewable bio-syngas for thermal industry processes, leading renewable gasification technology provider Meva Energy recognized the potential to transform heat-intensive industries, starting with tissue paper production. Now, Meva Energy has signed a 10-year agreement with Sofidel to construct a renewable bio-syngas generation plant at Sofidel's plant in Kisa, Sweden. The plant will have a generation capacity of at least 4.2 MW and will facilitate a reduction of 8,500 tons of CO2 emissions a year once fully operational, compared to the current carbon footprint generated by the consumption of liquefied petroleum gas (LPG).
First of its kind
"The vision is to achieve a very big reduction in fossil CO2 emissions," explains Niclas Davidsson, CEO of Meva Energy. Traditionally, fossil gas is combusted to dry paper in tissue mills. The new plant will deploy innovative technology to directly supply Sofidel's Kisa site with renewable energy from biomass (i.e. wood residues), helping work towards Sofidel's target to reduce emissions by 40% between 2018 and 2030.
The plant will be the first of its kind for Meva Energy. "This project has immense importance, not just for the site itself and our decarbonization ambitions, but also for us launching our new technology," says Davidsson.
While renewable electricity and hydrogen offer significant opportunities to move away from fossil fuels, they require complicated infrastructure modifications, many of which aren't yet available. Biogas is a much simpler option in comparison to other future technologies, and this project is a first step towards demonstrating its potential to energy stakeholders, including governments.
Alongside bio-syngas, the Kisa plant will also produce biochar (a residue, made of carbon and ashes, remaining after the pyrolysis of biomass). The result of biomass conversion, biochar is a solid material that can be used as a carbon sink, as well as having commercial value for use in soil improvement and animal feed. "Producing both renewable gas to directly replace fossil gas and biochar applied as a carbon sink adds up to a total negative climate footprint of the plant," explains Davidsson.
Timely innovation
At a time of unprecedented climate change and an energy crisis in Europe, energy transformation is more important than ever. As partners, Meva Energy and Sofidel share a spirit of innovation, demonstrating what private companies can achieve when they work together. "It is important to be willing to take the leap to pioneer solutions," says Davidsson.
"It's in [Sofidel]'s vision and DNA to push decarbonization plans according to a scientific approach," says Daniele Biagi, technical machinery specialist at Sofidel. "The senior management was willing to sponsor this pioneering project." This scientific approach is spearheaded by the collaboration of the Department of Energy at Pisa University, which has run studies to support the project, demonstrating the potential of bio-syngas as a fuel to heat paper.
The key to collaboration
For a pioneering project of this scale, the working relationship is vital. "This project is characterized by a lot of transparency and mutual interest in being successful," explains Davidsson. "Dialogue and communication are very important."
"It was a perfect fit for both companies," Biagi adds. "Meva introduced their expertise in this field of bio-syngas production, while Sofidel has great knowledge about tissue paper production. We felt the team at Meva understood our concerns and our needs when it comes to producing net-zero products but also maintaining production."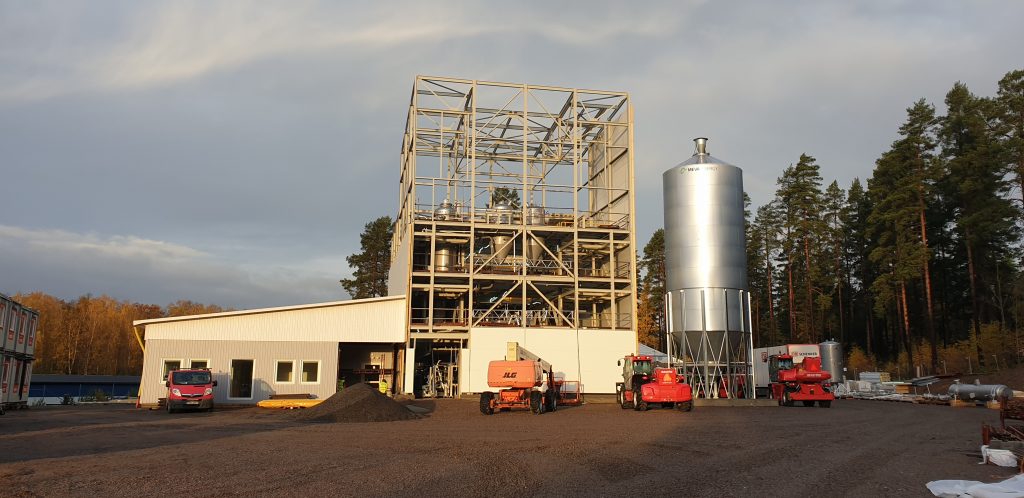 A new way forward
Success at the Kisa site will have implications not only across Sofidel's operations but for the wider tissue paper production industry and other heat-intensive process industries.
"This is a critical activity for us right now," says Davidsson. "We expect many visitors, not just from tissue paper production companies but companies from completely different industrial activities.
"There are interested parties from industries as diverse as aluminium production, copper production and food production. They all have something in common with Sofidel: the need for high-quality process heat that is often natural gas based." Furniture supplier IKEA has already visited the Kisa site, having identified the opportunity to transfer Meva Energy and Sofidel's innovative solutions.
"The [Kisa] site will remain an important reference point for us for those opportunities outside the tissue paper manufacturing industry. We were lucky to start with Sofidel," says Davidsson.
Construction at the Kisa site will be complete by the end of 2022, and commercial operation is expected to begin in by April 2023. Members of all energy-intensive industries can look forward to witnessing the potential of decarbonization by bio-syngas in action.
Further details:
For more information regarding Meva Energy, please visit mevaenergy.com.