Insects and invertebrates, says Paul Hetherington of Buglife, are "incredibly important, but so overlooked" in wider conservation work despite being, along with plants, the "building blocks upon which most of our lives depend". His organization is trying to change that view.
Insects and invertebrates are far from pointless pests to be squished or poisoned says Paul Hetherington, director of fundraising and communications at UK-based nature conservation charity Buglife. Instead, despite being "so overlooked" and misunderstood in broader environmental circles, bugs are actually "incredibly important" to all life on Earth.
Hetherington likens the role of invertebrates to an unheralded division within a company that everyone relies on, but otherwise forgets is doing crucial work behind the scenes, so it remains out of the spotlight. "It's like in a big business, where you have the finance team or administration teams. Most people might think, 'What on earth do they do?' They might not be making sales, or a product, but if you suddenly got rid of them all, everything will start to fall apart."
And the planet really would fall apart without invertebrates. It's a good thing then that Buglife care so passionately about preventing the extinction of invertebrate species – a very real threat globally. Buglife is the only organization outside the US that supports all invertebrates. "Our overarching goal is no more invertebrate extinctions – basically a world where people and invertebrates can live in harmony," says Hetherington.
Lobbying, campaigning and practical conservation
While Buglife operates in all four of the home nations of the UK it has also done plenty of overseas work mainly in overseas territories such as like South Georgia, Saint Helena, Sri Lanka and Tanzania, as well as campaigning within the European Union, where it sits on the EU's Habitats Forum. As well as lobbying work, it focuses on practical conservation work –captive breeding and creating the right habitats for some rare species, such as wildflower-rich areas for pollinators and peat bog restoration.
Buglife has had several wins on behalf of bugs. It is estimated that 1.5 billion aquatic invertebrates have been saved every year following Buglife's campaign to ban sheep dipping with synthetic pyrethroids (Cypermethrin). In 2010, Cypermethrin was permanently withdrawn from sale in the UK. "We found out that one drop gets into a stream and wipes out all invertebrate life for 10 kilometers downstream," says Hetherington.
More recently, Buglife took up the baton on neonicotinoid insecticides – neonicotinoids are the most widely used insecticides globally. "We started the campaign by conducting synthesis reports and finding out about the damage, then got other larger partners on board such as Friends of the Earth. It led to a European ban on the use on virtually all crops for virtually all types of neonicotinoid insecticides."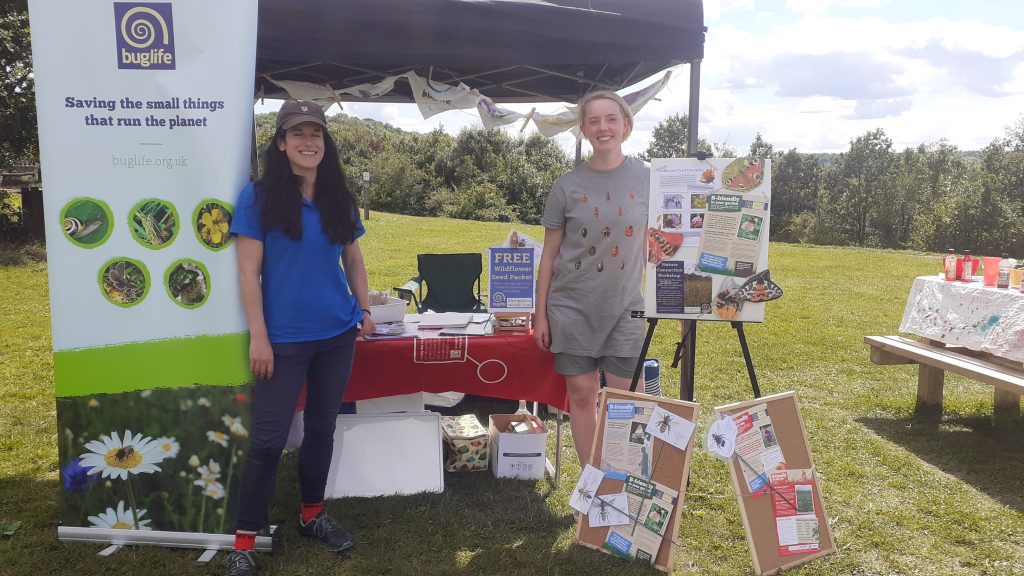 A more recent "battle" for Buglife is the fight to save Swanscombe Marshes, which is "probably the best site for invertebrates in the whole of the UK," says Hetherington. "There's almost 250 red-list type species on that site. There are plans to turn it into a theme park. We've put forward an alternative vision for it to become a giant nature reserve. We've managed to get it declared a site of Special Scientific Interest –but the battle continues."
Buglife also jointly manages the Canvey Wick nature reserve, a 93-hectare Site of Special Scientific Interest on Canvey Island in Essex, with the RSPB. "It's a brownfield site [previously developed land not currently in use] very rich in invertebrate biodiversity. We're probably unique amongst conservationists in that we're very interested in brownfield sites because they have an 'open mosaic' format of habitats. Having lots of different little habitats spread over the whole place creates a perfect place for different bugs, but also for amphibians and reptiles," says Hetherington.
Connecting the bugs
Buglife is also involved in the UK's National Pollinator strategies. "We've mapped the B-lines network [a series of 'insect pathways' running through our countryside and towns – the 'B' stands for 'Biodiversity']. They are a sort of insect superhighways where you need to put connectivity back into the country. The highways are essentially steppingstones roughly half a kilometer apart because that's about the maximum flight distance of some of our species," says Hetherington. And with good reason – since the late 1930s, England and Wales has lost 97% of its flower-rich meadowlands – an area of land 1.5 times the size of Wales itself.
The abundant use of chemicals in farming since the 1960s – not just pesticides but herbicides too – have had a "massive impact" on England's green and pleasant land, says Hetherington. "Herbicides have wiped out all of the native wildflowers that would normally have grown."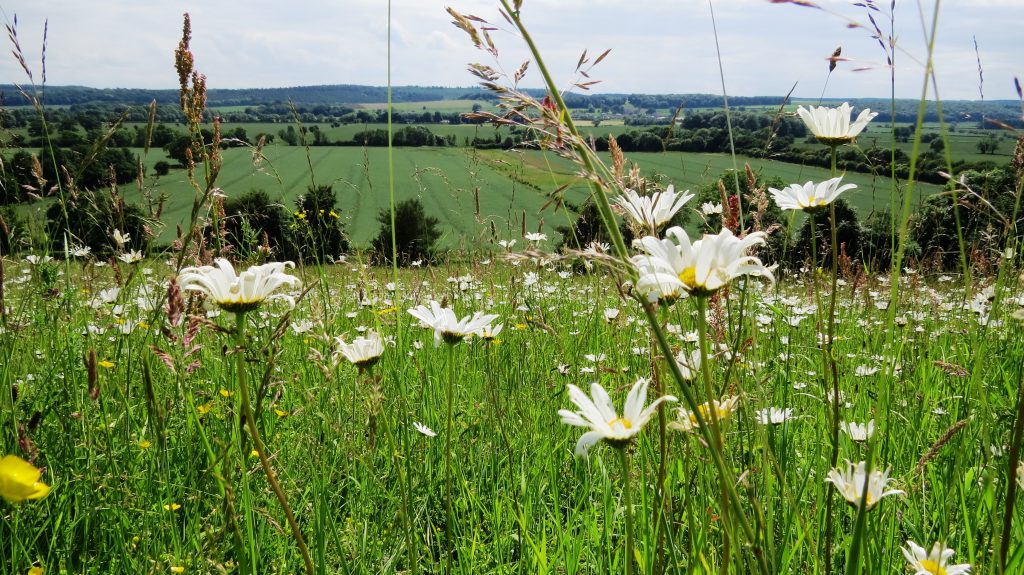 The next significant problem for bugs – and the rest of us – is climate change. "Take for example bumblebees: they do not like hot climates. In the Mediterranean, there are only two species of bumblebees, but in the UK, we have 25 – they prefer that sort of temperate climate. As things warm up, they naturally want to progress northwards. If you look at the distribution of bumblebee species in the UK, the vast majority are now found in Scotland's cooler temperatures, but there are a number of them that have got 'trapped' down in the south – the connectivity is gone. They can't get away from climate change."
Climate change also affects river flies. In the last five years, locations in England where the species are primarily found have moved approximately one mile upstream due to micro-changes in the water temperature. "Within 20 years if something doesn't happen with climate change, there's an awful lot of river flies that you will only find in the higher mountainous parts of the UK. Other areas will no longer be able to support them. These flies are the building blocks of so much else. So many fish and birds depend on river flies, just as we depend on pollinators. All of these things are acting together," says Hetherington.
Plants are also starting to flower before the bugs are ready to pollinate them, "which means very soon, they're going to no longer be pollinated at all. So, we're also putting some flower species at risk," says Hetherington. "Multiple things that are impacting."
"We depend on pollinators. All of these things are acting together"

Paul Hetherington, Buglife
The long-term consequences
So, what happens if we lose sight of the importance that all invertebrates have to the planet?
"Eight out of 10 of our wildflowers would cease to be in existence if we just lost pollinators. They would no longer set seed and would disappear. One in every three mouthfuls that we eat is dependent on pollinators. Virtually every fruit, peas, beans, cucumbers, marrows, tomatoes… All we would be left with is a diet based on grasses: wheats, rice and potatoes. We either lose all of that, or we'd have to pay people to hand-pollinate. For what we produce in the UK alone, that would cost – at minimum wage – at least £2 billion a year. Imagine putting that on our grocery bills? People are already worried about inflation and the cost of living. If we lose our pollinators it would put things through the roof and most of the foods we really enjoy would become available to the privileged only, or maybe on special occasions for the rest of us. That's how dire the situation will be," says Hetherington.
Then there's a huge number of other functions that bugs carry out such as the improvement of soil performed by earthworms, wood lice and even slugs. Invertebrates also have a role in keeping our fresh waterways clean. Crane flies are a big source of food for birds, fish, and small mammals. We would have no chocolate without midges because the cocoa plant is exclusively pollinated by them.
"Everything has its place, and we rely on it. We just don't realize we do," says Hetherington. "Imagine what the world would be like if nothing had eaten any of the animal poo? Dung beetles and flies are basically responsible for getting rid of stuff like that. Blowflies dispose of carrion and dead bodies. It will be a pretty horrible place if these things aren't broken down and turned back into nutrients, which then enables us to grow other things."
How can we help?
There is, says Hetherington, an urgent need for more large-scale research on insects to reverse the huge decline in bugs globally. The comprehensive studies we do have reveal alarming results. "Studies came back from Germany a couple of years ago saying it was experiencing a 70% drop-off in insect numbers."
In the UK, Buglife has got involved in Bugs Matter, a citizen science survey. It works by volunteers counting the number of squashed bugs on their car number plates for three months of the year, every time they make a journey. Using baseline figures first collated in 2004, Buglife's survey in 2021 found there was a 59% drop in the abundance of flying insects. In 2022, those figures are showing a 64% drop. "Climatic conditions can affect year-in year-out results, but we are looking at somewhere in the region of a 60% decline in under 20 years. Things are looking pretty grim," says Hetherington.
To combat this, as well as protecting and creating more brownfield sites and B-line networks, Buglife is advocating more scientific studies on the life cycles of insects, how they reproduce and breed, says Hetherington. "We know more about what's happening on other planets in our solar system. It's incredible how little research has gone into many of these species."
On the positive side, though "the great thing is that we can all do something for bugs in small places that will help," he says, including building more window boxes – a container for live flowers or plants that sits on the sill of a window – for bugs to incorporate into their insect superhighways and being mindful of the effect of our own ambient light pollution has on insects by only using outside lights when necessary.
"We can all do something for bugs in small places that will help"

Paul Hetherington, Buglife
"The reality though, is that to make a real lasting difference it's going to need larger-scale global action," says Hetherington. "It's only by arresting everything globally that we're really going to get stable insect populations. We need to convert people into realizing bugs are not our enemy. They're our friends and we're dependent upon them."
Further details: For more information, visit buglife.org.uk/