Andrea Piazzolla, Sofidel Chief Purchasing Officer, talks to Future about the qualities and principles he and his team look for in potential suppliers
What is your definition of a highly functioning supply chain?
Andrea Piazzolla: My 'scholastic' definition is one that implies a long-term, continuous relationship. But that is very generic. You can actually change the meaning of the phrase in relation to the economic period or historical era that you're living in. For example, the American anthropologist and futurist Jamais Cascio defines our world today as "BANI": brittle, anxious, non-linear and incomprehensible. So, in a world where benchmarks are not as reliable as they were in the past, where cause and effect get distorted, where life is non-linear and uncertain, "continuous long-term" takes on a different meaning.
But a high-functioning supply chain should be consistent, capable, and resilient in difficult economic scenarios. For that to happen, it requires an organization to have good governance and train its staff to be adaptive and flexible, adapting themselves quickly to different situations. Organizations should be transparent, because, in a such a non-linear world, information is increasingly important. The exchange of information and data is a key factor to being highly efficient. Last but not least, you have to have intuition. You must think outside of the box. That, to me, delivers a highly efficient supply chain.
How does 'out of the box' thinking help deliver efficiency?
Andrea Piazzolla: A perfect supplier is one you can share your knowledge with, creating innovation and giving you a competitive advantage. A supplier should share our principles on sustainability, but really on everything else too: all 360 degrees. We have operational risks and one of those is the continuity of the business, so, in such a disruptive market, you have to pay attention to where you're sourcing your goods from. You have to assess the geographical area and the political situation. A good partner is therefore able to reduce our risk.
Why does a partnership model with suppliers yield better results?
Andrea Piazzolla: A partner for us is someone that we want to share a long path with. Because of that, we cannot squeeze them. It doesn't make any sense therefore to focus all our strategy on pricing only, because that is really a short-term strategy. A long-term strategy requires someone supporting you in reaching your goals. For example, we wouldn't be able to hit our CO2 reduction targets without the help of our suppliers, because part of those targets are linked to them.
What qualities do you look for in a potential supplier?
Andrea Piazzolla: A coherent strategy depends on consistency. A partnership is something you build day by day. I don't think a 'right' recipe exists for that. It's just about getting to know each other and moving that supplier or customer relationship into a partnership relationship. For sure, there are minimum requirements that any supplier must have in order to work with us, including some specific sustainable standards and certifications. We also prefer partners that have different operations in different countries to minimize our risk.
What specific standards or benchmarks do you demand with regards to ESG?
Andrea Piazzolla: Our CEO started talking about environmental sustainability at Sofidel more than 15 years ago, thinking about how to reduce the environmental impact of our production into the environment. Then we started involving other stakeholders. We're trying to protect the future generation, but we are also trying to protect our reputation, because we are investing money, time and our reputation on sustainability and we don't want a supplier that doesn't have our same principles to ruin everything.
That's the reason why we trust in sustainability. So, if you trust us, you can work with us. If you have other targets, that's not a problem, but our path cannot be a common one. Even if that means we are going to lose out on opportunities.
Does it make it harder, or more expensive to source sustainably? Why is all that extra effort worthwhile?
Andrea Piazzolla: We need to talk about the pillar of economic sustainability before we can get to the pillars of environmental and social sustainability. Without economic sustainability, any additional notion of sustainability will be short term. For us, choosing sustainable options costs more than most other, typical products. So, yes, it can be more costly to be sustainable.
There is also an indirect price: perhaps we lose out on opportunities because we won't buy from unethical suppliers, even if they are cheaper. We don't buy from suppliers that are not in line with our principles. There are no excuses and no exceptions.
Is it more difficult? For sure, yes. Your supplier network becomes smaller. You have to do more research and make more of an effort. But we have sustainability in our DNA, so we don't consider it a difficulty.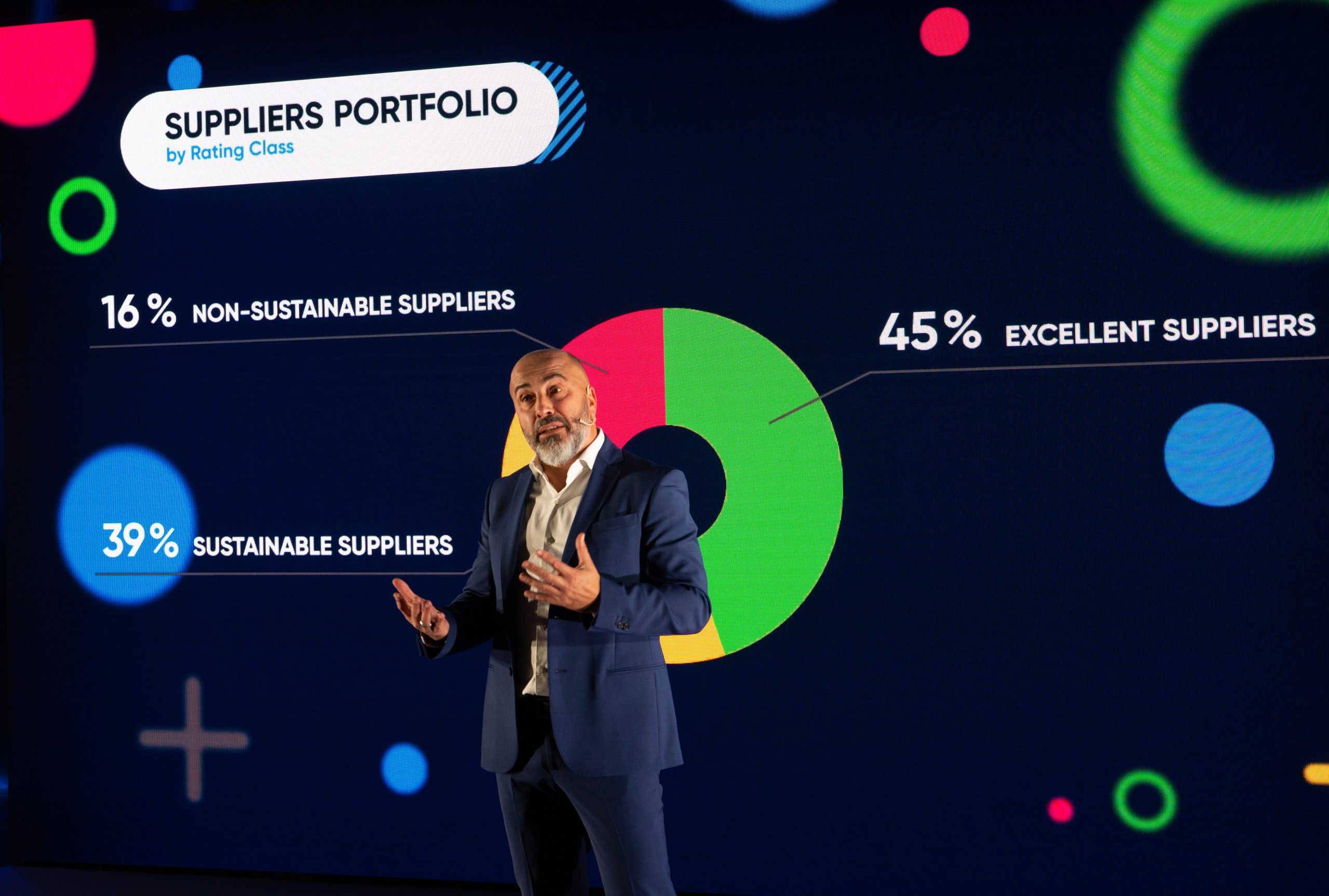 Tell me about the Sofidel Suppliers Sustainability Award (3SAward) – why is it important to recognize suppliers and their contribution to Sofidel's success?
Andrea Piazzolla: I have always considered the 3SAward to be more than a celebration. It's a sustainability booster. It helps us gently push our suppliers to improve their sustainability profile. It's the 'nudge theory' [a behavioral economics concept where positive reinforcement can influence behavior and decision-making].
The largest part of our spending is sourced by sustainable suppliers, so we have to have a way to measure and compare their sustainability performances. We use a scale between zero and 100. The ones that score more than 80 are consider excellent suppliers – those that are in line with our principles in terms of environment, human rights, anti-corruption, and labor. And, in 2021, 82% of the total spent of Sofidel was sourced by 'excellent' suppliers.
What do you have planned for the next 3SAward?
Andrea Piazzolla: We're going to skip 2022 and host the next one in 2023, because we only had the last one in December 2021. We want to give time to suppliers to put their ideas in place and to apply them. The next awards will be in-person again, not virtual, so, that will mean a big party. I'm going to celebrate! But as to specific speakers, topics, and the location there will be no spoilers, I'm afraid. No comment!
---